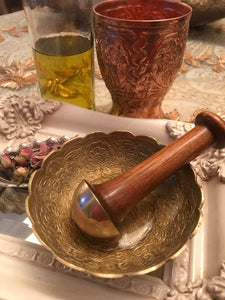 Iron away tiny face lines, soothe tired muscles, balance skin tone and PH levels, increase circulation and blood flow, disinfect and kill bacteria, and lift sagging skin, improve the tone and appearance of your face with the magic copper and wood wand known as Kansa Facial Wand.
Kansa is a combination of copper and tin with a wood handle to use as a face massage device.
Only one Kansa wand is included in the purchase.
Instructions for Doshas

For Vata Skin Types

After using your Vata Ubtan an  Ayurveda Herbal powder as an Exfoliant (mix into a paste with Liquid Nectar and 1 drop of Rejuvenation Serum)
Dip your Kansa Wand into a dish containing 1TSP of Golden Organic Jojoba Oil, (email info@ayurvedictouch.com to place your order or purchase at any health food store)
Add 3 Drops of Rejuvenation Serum for Anti-Aging and Skin Repair,
Begin Kansa face massage continuously dipping the Kansa wand into the oil formula to keep skin from stretching and drying.
After Kansa face massage, cleanse your skin with Tri-Dosha Balancing Cleanser, spray Liquid Nectar, apply Rejuvenation Serum and Renewal Cream in generous amounts until face is  moist for extra Anti-Aging and preservation.


Pitta Skin Types
Before cleansing your skin, apply the Liquid Nectar spray and measure 1 TSP of   Organic Rose Hydrosol (place order at info@ayurvedictouch.com or purchase at a local health food store) into a small bowl.
Dip your Kansa Face Wand into the Rose Hydrosol and begin your Kansa Wand Facial Massage sequence.
After massage is complete
Cleanse face and neck with Tri-Dosha Balancing Cleanser rinse off and use 1 TBLS of plain raw Yogurt or Coconut Yogurt with 1TSP of the Pitta Ubtan Ayurveda Herbal Powder mix into a mask
Leave the mask on for 5 mins then rinse off
Follow with Liquid Nectar Spray
Use 1 drop of Rejuvenation Serum only if skin feels dehydrated and you are trying to preserve the skin and your skin needs anti-aging
If your skin has  acne or oily and is prone to break out, use more Liquid Nectar and Renewal Cream starting around the eyes first
For Kapha Skin Types
Follow the Vata Routine in the Fall/Winter
Follow the Pitta Routine in the Spring/Summer
Kapha skin tends to be Normal to Combination, assess what your skin needs, if it is dry and dehydrated follow the Vata skin routine
If your skin is breaking out and oily follow the Pitta skin routine

Contra-Indications & Warnings
Do not use if you are allergic to metals or sensitive to them.
Not cleansing the skin after using a Kansa Wand can leave the skin looking grey or green due to the metals and oils causing oxidation.
Avoid massaging over cold sores or infected areas so avoid spreading
Always wash your Kansa Wand after every use with a natural detergent, and wipe dry.


Video